The App Driven Business Phone System
Jet's Cloud Based Phone System gives you the power to make and receive calls from anywhere with our desktop and mobile apps, or take advantage of a full featured handset when you're in the office.

UNLOCK ENDLESS CAPABILITY
What makes Jets' Business Phone System special?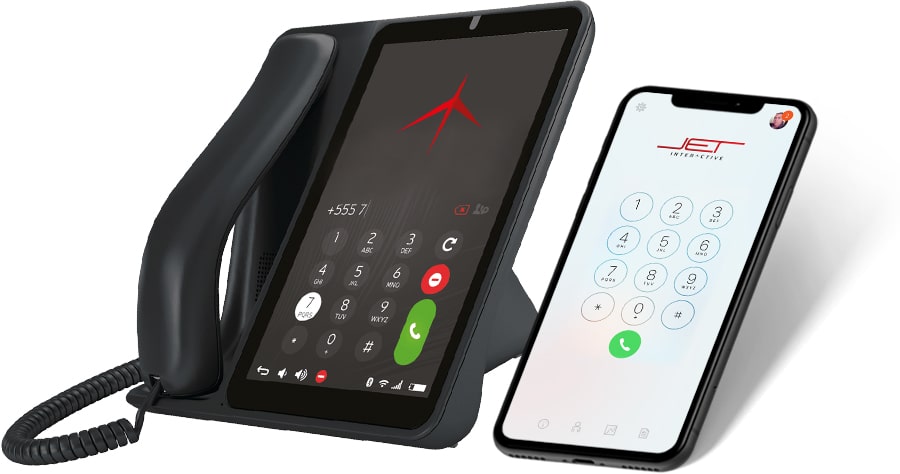 From 4 to 10,000 extensions.
Each extension has supports up to 3 devices at same time.
Manage call flows across staff, departments offices.
All inbound and outbounds calls per ext and agent.
Between your Jet Inbound Numbers, Business Phones and Jet Mobiles.
Phone System Features to cover any business

This can be done via a desk phone or via Jet App.
Jet's cloud pbx system supports 'Hold' of a call along with both Cold and Warm transfer. Whether you are picking up your call from a Jet desk phone or Jet Phone App, you can first pick up a call from anywhere and place it on Hold.
Once on hold you can cold transfer it to someone without an introduction or perform a Warm transfer. A warm transfer allows you to speak to the second party before connecting the call. Both transfer methods can be used to transfer calls to a number on your Jet network, desk phone, Jet mobile number or an external number.

Press '1' for Sales, Press '2' for Customer Service, Press '3' to start automating your calls with an IVR from Jet Interactive.
An IVR or Auto Attendant as they are often known as can make a small business seem larger and more professional and are vital for large business with staff in different departments. Combined with Call Queues and Ring Groups – IVRs are one of the most efficient ways a business can automate and prioritise calls to an office phone system. The Call Whisper function can tell the operator what IVR option the caller selected before the call is put through.

Manage a second caller on your phone.
This will work on any device that has the capability of handling two concurrent lines. This includes desk telephones and mobile phones. During the initial call a second inbound call can be heard ringing. Depending on the device you can put the first call on hold while you answer the second call, hang up the first call to take the second call and even merge the calls to speak to both parties. Jet supports all options. The exact functionality is dependent on the phone hardware being used.

Calls to a particular Jet business number can be shared amongst multiple staff or agents.
There are two common types of Call Groups or Rings groups – Sequential and Simultaneous . Sequential Ringing is where a staff extension is dialed first and if not answered in the required time a second number is then dialed. Any number of extensions can be added into a Sequential Ring Group. Simultaneous Ring Groups allow a predefined list of extension numbers to ring at the same time when that group is called.
Collect your voicemails away from your desk phone.
You no longer need to get back to your desk phone to check and listen to voicemails. Besides your ability to take and make calls from your Jet App on your mobile or laptop while away from your desk all voicemails can be either emailed to you or found within your Jet Hub portal.
Advanced Cloud Phone System Features

Take and make calls from multiple devices. Each extension on your Jet Phone System can work on up to 3 designated devices.
This includes desk phones, Android and Apple iOS mobile phones, tablets along with all desktops and laptops. You can have all devices ring at the same time and you pick up the one that is more convenient for you.
record your inbound calls across any extension, call queue or inbound numbers.
The most powerful and fully integrated call recording platform for business phones and call centres. Use Jet's 'Drop and Drag' interface within your Jet Hub interface to build recording capability anywhere within your Jet telephone system. To find out more click on her.
This is the heartbeat of your Jet Telephone Network. Control and order all your inbound, outbound and business local telephone numbers.
Add and change Ring groups, call queues, call flows, messages, recording and IVRs with a click of a button. No coding, no programmers or IT resources. Set up business telephone system within minutes. Jet Hub's simplicity makes it an ideal phone system for small businesses.

Manage the way calls move between staff, departments, buildings, cities, states and times. You are in total control.
Call flow builder is one off the most important features with Jet Hub and allows you to build via your own visual interface the most customer centric communication paths.
Cloud Mobile - Integrated Mobile solution
Integrated Mobile solution – You now can add a second mobile number to any iPhone or Android smart phone.
Are you stuck with most client calls going to staff's personal mobile numbers? Are you having to manage a fleet of business mobiles that your staff reluctantly have to carry along with their own personal device? The answer to both those problems is Jet eSim. Jet eSim is an app driven mobile service that can run on any smart phone. It provides a second mobile number that can take and make calls and texts. Now you can provide every staff member with their own company mobile number that can be run
separately on their own device. Your business retains copies of all the calls and messages conveniently within your Jet Hub portal. You can even retain recordings of calls for training and quality assurance. And when staff leave you can remotely disconnect their Jet eSim.
What marketing is driving each inbound call, every agent and staff member, every mobile phone accounted for and all outbound calls. 100% visibility of your business.
Jet is famous for its inbound call tracking, but it has now extended this online reporting capability to business phone and call centre products.
Frequently Asked Questions